Come join us for a spontaneous performance by Colombian guitarist – Nilko Andreas Music 
Saturday, April 15th at 5pm, 2023.
NILKO ANDREAS GUARIN is an accomplished classical guitarist, composer & and educator living in NYC. Backstage New York considered Nilko Andreas as an "electrifying performer for his powerful stage presence and spontaneity that grows, irresistible".
You can also travel to New York City for his next performance at Carnegie Hall on May 25th.
WOW FREQUENCY HOLIDAY ART SALE 
Limited edition prints, photographs, drawings, small sculptures, paintings, and jewelry by Chicago artists.
Purchasing an Original ARTWORK makes a great one-of-a-kind gift.
Shop Local and Support Chicago Artists!

IWONABIEDERMANN PHOTOGRAPHY – PROXIMITY OF SILENCE 2020.
---
"Covering the Masters Series" is an intimate journey of Chicago artist into the work of masterpieces we all admire.
Tom Robinson's outstanding artistic skills and his ability to look deeply into the painting resulted in quite an impressive collection. He has produced a remarkable series from Edgar Degas, Henri Matisse, Edward Hopper, John Singer Sargent, Paul Gauguin, Amedeo Modigliani, and Pablo Picasso.

Amedeo Modigliani, Jeanne Hebuterne with Hat and Necklace
---
BORUCH LEV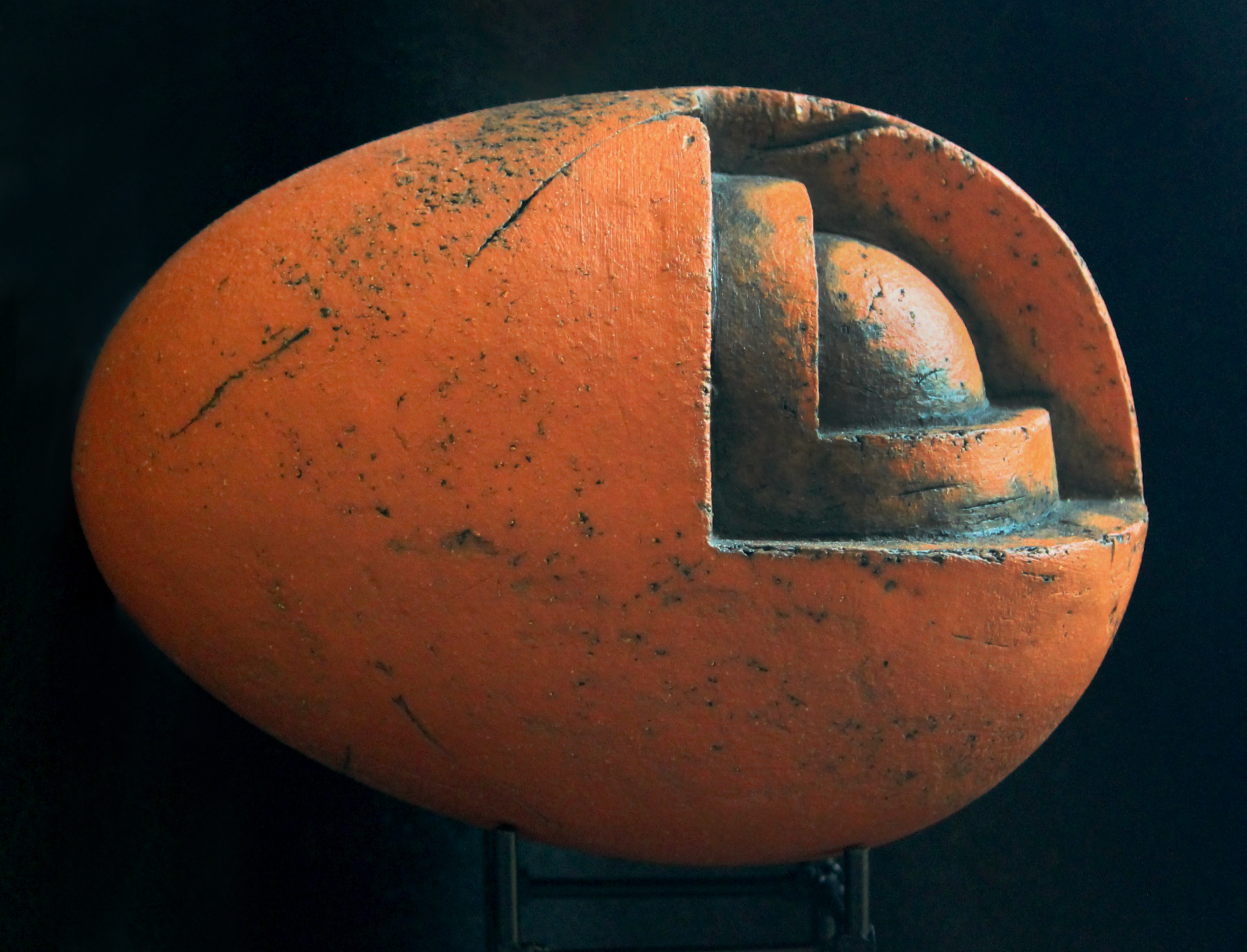 Egg of Knowledge, Terracota, Oxides, 14 x 5.5 x 8, 2015.
---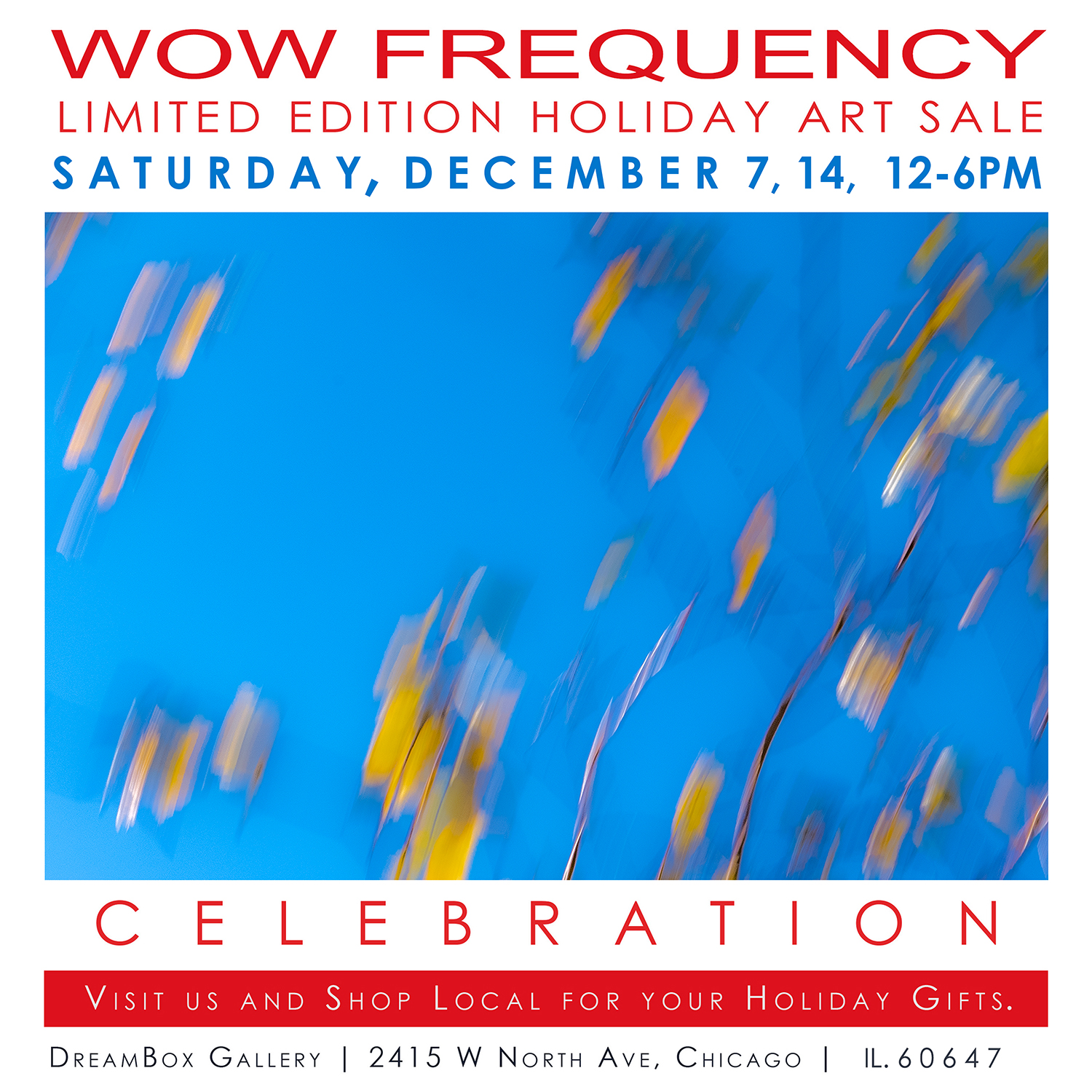 You are invited to join us for unique holiday gift shopping and a chance to recognize the value of artists in our community.
Participating artists: Piotr Antonow, Iwona Biedermann, Ala Jaron, Boruch Lev, Irena Siwek, and Tom Robinson. Limited editions prints, photographs, drawings, small sculptures, paintings, and jewelry will be for sale, at affordable prices.
DreamBox Gallery has been an alternative space for showcasing artists in Chicago since 2003.  Harrison's Cafe joined the space in 2019 and together they offer a meeting place fueled by art and coffee.
EXPLORE WOW:  an Alternative Creative Community located on North Avenue in Chicago… West of Western!
While on the BLOCK visit: DREAMBOX GALLERY and Harrison's Cafe at 2415 W. North Ave., TOM ROBINSON GALLERY at 2416 W North Ave., An Orange Moon at 2418 W North Ave., and Rangoli Classic Indian Dining at 2421 W North Ave. which opens at 4pm
DreamBox Gallery presents PIOTR ANTONOW
Opening reception with artist present: WEDNESDAY, MARCH 20th, 2019, FROM 6pm – 9pm
Closing reception with artist present: SATURDAY, MAY 11th 2019, FROM 1pm – 4pm
---

Piotr Antonow was born in Cracow, Poland.  Early in his life, he began painting and drawing in his parents' art studio and he continued his studies at the Secondary School of Fine Arts in Cracow. After moving to the United States in 1986, Antonow took classes at the Art Institute of Chicago and privately studied painting and drawing with Gay Riseborough.  He also studied under Eleanor Spiess-Ferris in the Evanston Art Center, where he now runs the figure drawing sessions.
Piotr Antonow's paintings combine the elements of abstraction with realistic representation.  His compositions allow the lines, colors, and shapes to come together to define the realistic details of the form, that brings into view a degree of the inner world and the individuality of a subject.
Antonow has been a part of many group exhibitions in Chicago including the Polish Museum of America, Peter Jones Gallery, Evanston Art Center, The Art Center Highland Park, and DreamBox Gallery, and his work is well supported by private commissions and art collectors.
We invite you to join us – art, coffee, and unique holiday gift shopping with a chance to meet and recognize the value of artists in our community!  WOW (West of Western) Frequency is presenting Limited Editions Prints by Lidia Rozmus and Irena Siwek, Photography by Iwona Biedermann and Monica Kass Rogers, Painting by Tom Robinson, Ceramics by Jolanta Nawrocka, Watercolors by Carmella Saraceno and Jewelry by Ala Jaron Design.
DreamBox Gallery is OPEN from 12pm-4pm
Friday, December 7th and 14th and Saturday, December 8th and 15th
Exhibiting Artists:
TOM ROBINSON

Tom Robinson covering' the masters – Copy of  the  "Annunciation" by George Nathaniel Hitchcock (Oil on panel, 30″x30″, 2018)
MONICA KASS ROGERS
Alley Abstracts Series #3, Face-Mounted Color Print, 16″x 20″,  2018.
IRENA SIWEK
Marionettes: Without an Audience, 18″x13″, Archival Print, 2013.
CARMELLA SARACENO 
Marking Time, Watercolor, 16″x20″, 2018.
Join artist Carmella Saraceno for the Closing Reception of Hiding in Public – Conversation Pieces.
Saturday, November 10th from 12pm-4pm
Exhibit runs from Friday, October 5th – Saturday, November 10th.
Opening reception with the artist present: Saturday, October 20th from 12pm – 4pm
Carmella Saraceno gathers found objects and materials, and through deliberate selection, creates free-standing figures that are constructed from plywood. Each individual sculpture is intended to initiate a conversation. Stripped from their initial meaning, the objects are chosen for their shape, form, and color. In the process, the utilitarian is transformed into something new, yet familiar, ushering the viewer into a place of discovery and fresh insights.
Alongside these sculptures, Saraceno is showing a series of watercolors that inform her sculptural work.
"The daily practice of writing has led me to a new daily practice of painting watercolors," says Saraceno. " these access a substrata of emotion and thought beneath the language of words—leading me into new trailheads of exploration."
Carmella Saraceno, Artist, Sculptor, Writer, Creative Entrepreneur, earned a BFA from the Tyler School of Art in Philadelphia in 1979, a period during which she also studied art in Rome. She lived and worked in New York City during the 1980s, but relocated to Chicago after participating in Sculpture Chicago'86. In 1990, she founded Methods & Material, which she now co-owns with her partner and sculptor, Roger Machin, and co-founded A+CCT (Artists and Children Create Together) an NFP community arts organization in Humboldt Park. From 1994 until 2000, Saraceno was an instructor, advisor, and the Director of International Affairs at The School of the Art Institute of Chicago. She has exhibited both nationally and internationally.

Democracy: Present & Future
in the garden with Louis Silverstein
Friday, October 5th at 5:30 p.m.
"Where you see wrong or inequality or injustice, speak out, because this is your country. This is your democracy. Make it. Protect it. Pass it on." Thurgood Marshall
Let's talk about democracy! What does it mean to you? How is it changing? What responsibilities do we have individually and collectively to ensure that it regenerates and flourishes? Please join Dreambox Gallery for a lively discussion with Distinguished Professor Louis Silverstein, Ph.D., Professor Emeritus at Columbia College. Introduction by Ingrid Riedle. Silverstein's teaching and life experiences bring a unique point of view:
"The philosophical underpinnings and practice of democracy are being supplanted by ruling authoritarian philosophies and ways of governing," says Silverstein. "Yet, the seeds of democracy are deeply rooted within our species just waiting to be set free by those who believe.  Yes, democracy has its flaws, but is there really something better out there to govern human society?"
Using a wide-lens perspective—philosophical, historical, socio/economic, psychological, spiritual, Silverstein will lead us in a fascinating discourse on the nature and practice of democracy.
Bring your children, your parents, your friends, your neighbors—we are all students and democracy is a teacher of what is the best in us. 
Who: Louis Silverstein, Ph.D. Distinguished Professor of Humanities (Emeritus), Teacher, Author, Social Activist, Earth Artist, and Sand Writer. 
Where: Dreambox Gallery, currently featuring "Hiding in Public – Conversation Pieces," sculptural and watercolor works by artist Carmella Saraceno. 
When: Doors open at 5:30 p.m.; discussion will begin at 6:00 p.m.
ART | Poetry  
OPEN for Poetry of Seeing – Saturday, April 28th, from 4pm-6pm
DreamBox Gallery invites you to join us for CONVERSATION about ART and POETRY with poet and art historian ALEKSANDER NAJDA. 
From Paul Cezanne to Henry Darger, and more.
Review of artists and architects through the centuries as seen through the eyes of poets, writers, art historians and people not familiar with art at all. Everyone is welcomed to read, critique and argue. We will also take a closer look at the current show of Adrian Piper's works at MOMA.
ART | Poetry  
Saturday, March 31, from 4pm-6pm 
CONVERSATION about ART and POETRY with poet and art historian ALEKSANDER NAJDA. 
This month we will begin our exploration of the ekphrastic tradition with works by Nobel Prize winners in Literature: Tomas Gösta Tranströmer, Czesław Miłosz and Samuel Beckett. Our 
afternoon
 journey will survey the veracity of the Northern Renaissance, the intimacy of the Dutch Baroque and the dynamism of the post-WWII avant-garde.
Enjoy a closer look at the pairings of expressions in theater, painting and poetry. The profile of Alberto Giacometti will be at the center of our discussion. Giacometti's and Beckett's friendship and their collaboration for Waiting for Godot will provide the stimulus for lively conversation. —Aleksander Najda.

A G N I E S Z K A  P O D C ZA S Z Y – March 1st – April 15th, 2018.
T O M  R O B I N S O N
Expo de jeunes artistes  I   

Young Artists EXPO POP UP 
Saturday, February 10th and 17th from 2pm -6pm
DreamBox Gallery presents Young Artists EXPO – the artwork of students and participants of after school art classes (1st through 5th grade) at the French International School in Chicago. As part of the Before-And-After art classes, drawing and ceramics are taught by visual artist and art teacher of Lycée Français de Chicago – Anne Seigenthaler. 
THE EXHIBITION IS CURATED  by  A N N E  S E I G E N T H A L E R  and  I W O N A  B I E D E R M A N N 
The Innocent Eye –
Expo de Jeunes Artistes
But genius is no more than childhood recaptured at will…
Charles Baudelaire, "The Painter of Modern Life" (1863)
Seeing the drawings of the children from the Lycée Français de Chicago, I was struck by the freshness and sophistication of the life-sized, brightly dyed works on paper. Some of the silhouettes, outlines of the children's bodies, are steeped in a trans-like motion that suggests a dreamy playfulness à la Matisse's La Danse. Others are saturated with eerie stillness and could remind one of drawings by graffiti artist Keith Haring.
These silhouettes, since their interior is not patterned but full of texture of a single color – pink, purple, green – can be seen as shadows in motion. The uniform plainness of the shapes provides a wonderful contrast to the compact multi-colored ornaments that surround the flowing contours drawn around the authors themselves to the edge of the paper. One must think, not surprisingly, about the tightly patterned, exuberantly colored wallpapers of Matisse's interiors.
The charcoal portraits in smaller format, are also remarkable for their raw directness and expressive power. They could easily be compared to works of Jean Dubuffet, Paul Klee and many others, but what is truly revealing is that they, the children's works, should not be compared to the great masters, but the opposite. It is obvious (and documented) that the masters were the ones who studied the paintings and drawings executed by children. This exhibition reminds us why.
The works on paper by the students of Lycée Français de Chicago recovered in me the pure joy of being a kid again, full of freedom, unrestrained imagination and audacity to conquer and stretch beyond two-dimensional space.
It came to me that, after exposure to more than century-old examples of children's art works in contemporary society (where culture increasingly is something to be consumed) we are reminded of the power of our children's talent to get to the point. It is obvious that not children, but adults need to be cultivated.
This remarkable exhibition is curated by ANNE SEIGENTHALER and IWONA BIEDERMANN who are giving our young artists the stage they deserve.
Aleksander Najda
and Rita Dommermuth
ART | Poetry     
Saturday, January 27th, from 4pm-6pm 
Special quest: LIDIA ROZMUS  
The impact of Japanese aesthetics on the work and life of Georgia O'Keeffe, and her art as an inspiration for haiku poets.
While Georgia O'Keeffe is not known to have composed haiku, she certainly knew of them. Japanese aesthetics infused her work from the outset, and its evidence can be found not only in her paintings but in her studio and living spaces.  
Lidia Rozmus presents a series of O'Keeffe paintings, each paired with a haiku poems inspired by O'Keeffe's visible connection to nature through color, forms and rhythms. 
Painting by Georgia O'Keeffe ("Pelvis IV") and haiku poem by Charles Trumbull, A Five-Balloon Morning  (2013)
pale moon
through the pelvis of a mule
desert quietude
WOW Frequency exhibition extended till January 31st, 2018:
C O L L E C T I O N  o f  P O R C E L A I N  F I G U R  I N E S  a n d  M A S K S  b y  J O L A  N A W R O C K A
Patchwork Series: Hand Crafted Mixed Media Quilt by Makeba Kedem-DuBose
F O U N D  F A L L E N  S E R I E S  b y  M O N I C A  K A S S  R O G E R S
A R T  I N  A  D I A L O G U E  W IT H  C O M M U N IT Y
S E P T E M B E R  –  O C T O B E R  2 0 1 7
Showcasing a collection of porcelain spoons, masks and figurines by 
JOLA NAWROCKA. 
W i t h I n  t h e  L i n e  S e r i e s  b y  I W O N A  B I E D E R M A N N    
I W O N A  B I E D E R M A N N  P H O T O G R A P H Y  –  J U N E  2 0 1 7
in SILENCE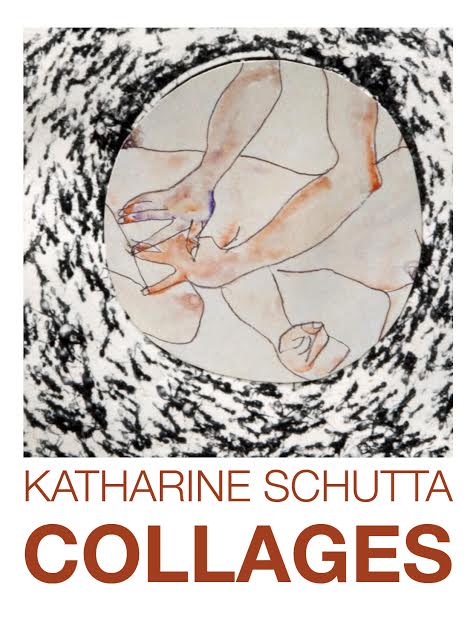 ---